PROVEN EFFICACY OF APRISO
In Studies 1 and 2, the proportion of patients who remained relapse free* at 6 months was greater for APRISO than for placebo.1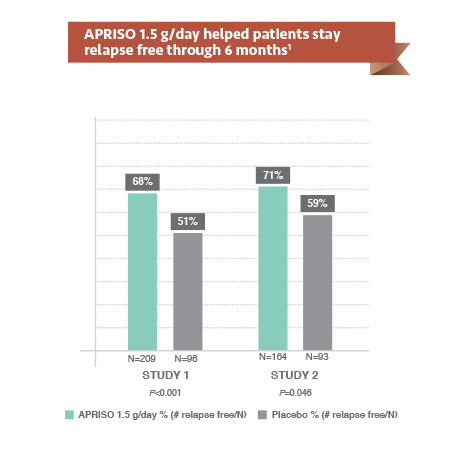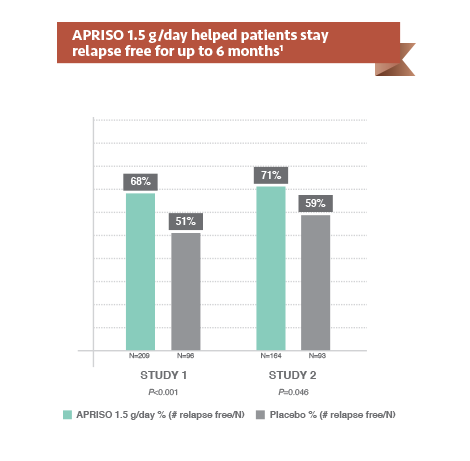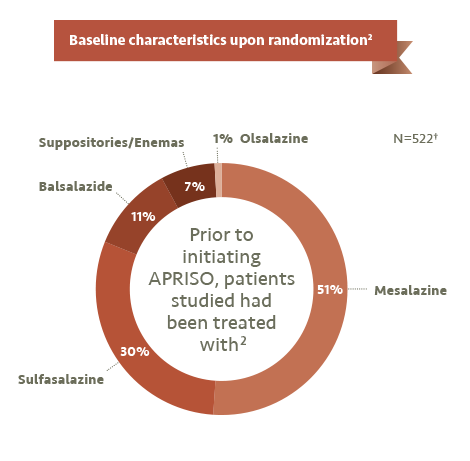 ~7 of 10 patients (withdrawals for any reason were counted as relapse) maintained UC remission for up to 6 months with APRISO, compared with ~5.5 of 10 adult patients taking placebo1
In studies 1 and 2, 87% of patients were previously taking a 5-ASA, and 5-ASA use was discontinued prior to the first dose of APRISO or placebo2
Study Design: In 2 randomized, double-blind, placebo-controlled, multicenter trials conducted in 562 adult patients in remission from UC, the effectiveness and safety of APRISO 1.5 g given once daily compared with placebo was evaluated. Subjects were randomized in a 2:1 ratio to receive either 1.5 g (4 capsules total) or matching placebo capsules for 6 months. The primary endpoint was the proportion of patients who remained relapse free at 6 months (the end of the trial). Relapse was defined as a rectal bleeding subscale score of ≥1 and a mucosal appearance score of ≥2 on the Sutherland Disease Activity Index (UCDAI). All early study withdrawals were considered treatment failures.1
Study Design: A post hoc analysis of 2 identically designed, prospective, randomized, double-blind, placebo-controlled, 6-month, multicenter trials was conducted in 487 adult patients with UC to evaluate the efficacy of once-daily granulated mesalamine 1.5 g vs placebo, in the maintenance of remission from UC, in patients who switched from other 5-ASA formulations. Patients were randomized 2:1 for granulated mesalamine and placebo, respectively.2
*Relapse counted as a UCDAI rectal bleeding score of ≥1 and mucosal appearance score of ≥2, or premature withdrawal for any reason.
†Some subjects used multiple formulations; therefore, the total number of treatments (522) is greater than the number of participants (487).
LONG-TERM SAFETY PROFILE
The safety of APRISO has been evaluated in two 6-month placebo-controlled trials and for up to 24 months in an open-label extension study1,3
The safety and efficacy of APRISO for treating ulcerative colitis beyond 6 months has not been evaluated in controlled clinical trials.
In clinical trials, APRISO was generally well tolerated, with most AEs reported as mild to moderate in severity1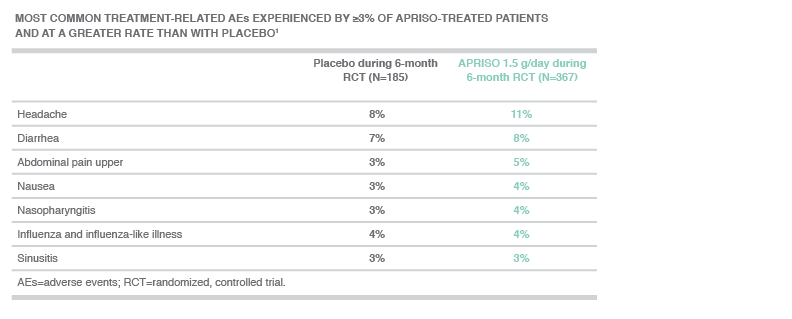 The long-term tolerability of APRISO was evaluated up to 24 months in an open-label extension study3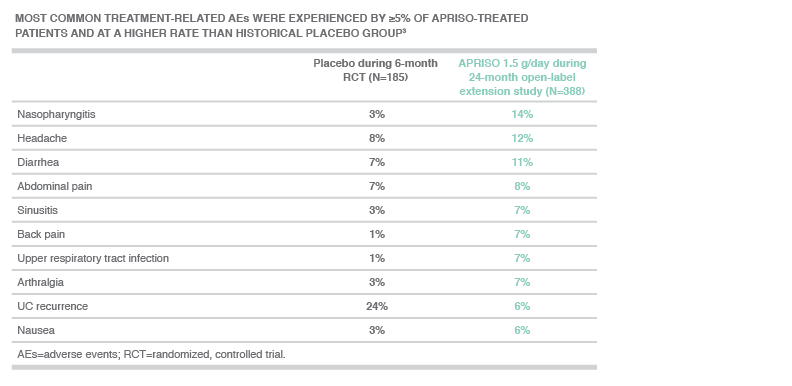 Study Design: A phase 3, multicenter, 24-month, open-label extension study evaluated the safety and tolerability of once-daily APRISO (1.5 g) in 388 patients who previously achieved remission from mild to moderate UC. Eligible, enrolled patients had successfully participated in 1 of 2 previous phase 3, 6-month, double-blind, placebo-controlled trials (n=280), or were new patients in remission (n=113). Safety was assessed during clinic visits by monitoring AEs and the performance of clinic laboratory tests. A post hoc analysis of UC-related AEs was used to determine the risk of UC recurrence.3
Learn more about APRISO's Mechanism of Action